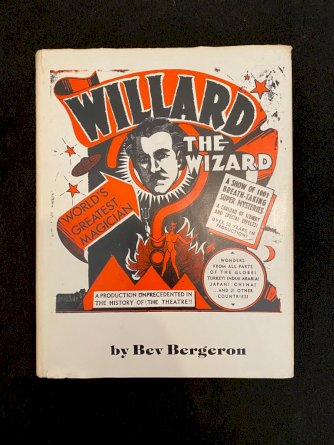 Willard The Wizard by Bev Bergeron

Description
Delivery Info
Willard The Wizard by Bev Bergeron
Pre- Owned hardback Magic Book
Condition - few tears on book cover - Please see photos for condition

Willard the Wizard-The Last of the Big Tent Show Magicians

Title: Willard the Wizard
Author: Bev Bergeron
Publisher: Lake Cane Publications
Publication Date: 1978
Hardcover
Book Size: 8 ¾ X 11 1/4
Pages: 156
Edition: First Edition


Bev Bergeron first saw the Willard Shows in 1940; eight years later he joined the show and began an adventure that has brought him through every facet of show business. This is a classic view of the times, seen through the affectionate eyes of a young man whose life was forever changed by the Willards.

Beginning in Ireland about 1840 with James Willard, Elder, a magic tradition began in the Willard family. At one time there were as many as five Willard the Wizards, each performing with his own large touring show. Harry Willard was the last touring Wizard. He startled the world with his thumb tie and Spirit Cabinet. Three different 2-hour shows were performed each week. Seventeen trucks carried the mysteries. It was a period when magic theatre was enjoyed by all.

Bev Bergeron's story of the Willard the Wizard Shows is a history of theatre, America, magic, and family. Told with reverence, awe and warmth, filled with photographs, handbills and anecdotes from others, Bev gives us a wonderful, nostalgic and amazing look at early 20th century magic theatre. This book was used by The Smithsonian Institution for research in their tribute to American Tent Theatre

Contents

11 An Historical Tribute to a Magical Family
19 Willard Show (Doc Harad)
21 Tiny Titanic Trickster (Arthur Leroy)
26 Poem (George Warrick)
27 The Best Dang Magician You Ever Saw (Walter Blaney)
29 Last of the Old Time Masters (Doc Mahendra)
34 Running Down the Willards

35 The Tent Show and Its People
37 An Assistant Remembers
39 Get the Flags Flying (Madeline Willard Copeland)
41 The Tent People
46 View of the Tent
50 Press Clippings
57 The Influence of the Willard Show
61 A Willard Handbill
65 The Towners

67 The Magic of the Willards
68 The Programs
73 The Magic

135 The Entertainer
136 Patter
143 Marionettes
145 Cueing and Stooges

149 The Death of the Tent Show
152 A Tribute (Glenn Tucker)
153 Index
156 Poem (Frances Willard Tucker)

As with all of our pre-owned and antique magic we have only got one of each item, please contact us to buy today to avoid disappointment. Condition of pre- owned items vary - but all items are complete and in working order unless otherwise stated. Please thoroughly check photographs before buying - please note the item in the photograph is the item you are buying.



TO ORDER
Please bear in mind that the second-hand apparatus, books and tricks in our stocks are generally limited to one of each particular item.
Once you have seen what you are looking for please email to check availability, and to reserve items and to receive a shipping quote.
We will the contact you with full details and also the shipping costs.
Payment can then be made to our PayPal account.
SHIPPING
All items are dispatched using a signed for/recorded service – this ensures parcels are delivered safely and with proof of delivery.
We ensure all items are packed securely prior to dispatch.
RETURNS
Returns/refunds will only be considered for faulty items.