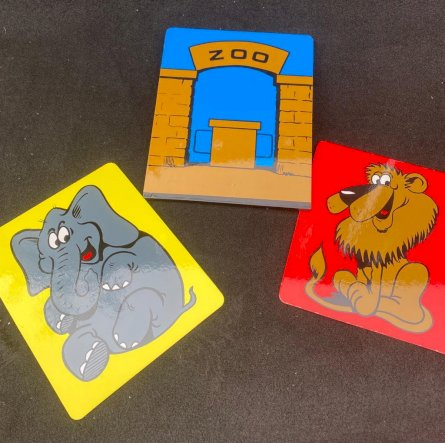 Who's Who at The Zoo - Reg Webb

Description
Delivery Info
Who's Who at The Zoo - Reg Webb
Pre- Owned
Condition is excellent slight signs of wear and use - Please see photos for condition
Instructions included
Here is a great trick for the children's entertainer that keeps the youngsters laughing and shouting in a way that is a delight to see and hear. Barry has taken this outstanding effect and improved it and we are proud to have re-released this greatly enhanced set.
A folder is show with a picture of the entrance to a zoo on the front. Inside there is a picture of a monkey house. However, there are no monkeys in the monkey house.
The performer now introduces a number of brightly coloured animal pictures. As the animals are shown, the children are encouraged to make the various animal sounds. At last the picture of the monkey is shown. It is turned face down and placed on a stand and then covered with a brightly coloured silk. After a lot of fun the monkey is made to disappear. Everyone thinks he is in the monkey's cage but this is proved not to be so. Suddenly the children spot the wicked rascal of a monkey popping up and down and peeping out from behind the zoo folder.
As with all of our pre-owned and antique magic we have only got one of each item, please contact us to buy today to avoid disappointment. Condition of pre- owned items vary - but all items are complete and in working order unless otherwise stated. Please thoroughly check photographs before buying - please note the item in the photograph is the item you are buying.





TO ORDER
Please bear in mind that the second-hand apparatus, books and tricks in our stocks are generally limited to one of each particular item.
Once you have seen what you are looking for please email to check availability, and to reserve items and to receive a shipping quote.
We will the contact you with full details and also the shipping costs.
Payment can then be made to our PayPal account.
SHIPPING
All items are dispatched using a signed for/recorded service – this ensures parcels are delivered safely and with proof of delivery.
We ensure all items are packed securely prior to dispatch.
RETURNS
Returns/refunds will only be considered for faulty items.