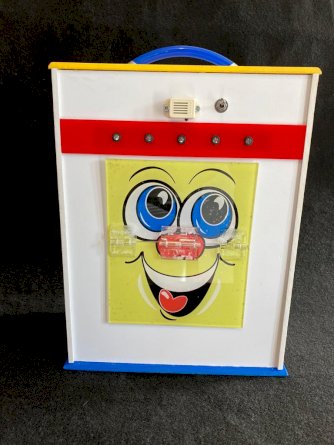 Wacky Washing Machine By John Breeds

Description
Delivery Info
Wacky Washing Machine By John Breeds
Pre- Owned
Condition is excellent slight signs of use - this prop has been looked after extremely well - Please see photos for condition
Instructions Included

John Breeds' Wacky Washing Machine
Many busy children's entertainers bypassed the wonderful Washing Machine trick because some washing machines were very heavy; some were top loading; with some you couldn't let the children remove the socks; some were too large. But John Breeds' Wacky Washing Machine has solved all these problems. The prop weighs only 1.5 kilos (about 2 lb), and the approx. dimensions are height 12" (30cm); width 9" (23cm); and depth 5" 13cm).

Washing socks has never been so hilarious with John's new design. It's a comedy of errors where the pair of socks change size, become spotted, are full of holes and finally return to normal. A major feature is that the children themselves can load and remove the socks from the drum. Added to this, there is a bank of flashing lights and a noisy buzzer. However, this simple description gives no inkling of the FUN that the prop generates. Wacky Washing Machine is a feature effect in any show and easily the best participation trick - ever! There are laughs galore throughout the routine!

As with all of our pre-owned and antique magic we have only got one of each item, please contact us to buy today to avoid disappointment. Condition of pre- owned items vary - but all items are complete and in working order unless otherwise stated. Please thoroughly check photographs before buying - please note the item in the photograph is the item you are buying.



TO ORDER
Please bear in mind that the second-hand apparatus, books and tricks in our stocks are generally limited to one of each particular item.
Once you have seen what you are looking for please email to check availability, and to reserve items and to receive a shipping quote.
We will the contact you with full details and also the shipping costs.
Payment can then be made to our PayPal account.
SHIPPING
All items are dispatched using a signed for/recorded service – this ensures parcels are delivered safely and with proof of delivery.
We ensure all items are packed securely prior to dispatch.
RETURNS
Returns/refunds will only be considered for faulty items.