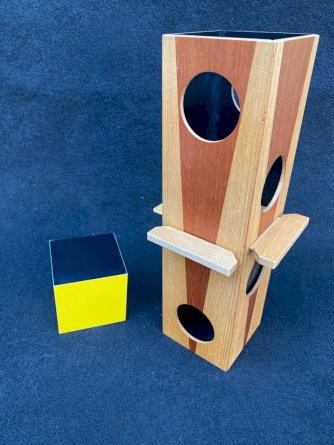 Visible Block Penetration by Mikame Craft

Description
Delivery Info
Visible Block Penetration by Mikame Craft
Pre- Owned
Good Condition - Please see photos for condition
Instructions included
Effect: Mikame made classic effect much better. A block visibly penetrates through two dividers in front of you! The magician shows a block, a wooden tube and two dividers. Then he places the dividers at the center of the tube. As the magician places the block into the tube and push the block slowly, the block visually penetrates through the dividers.
Audience can see the block whole this routine, you don't have to cover and funny movement.

As with all of our pre-owned and antique magic we have only got one of each item, please contact us to buy today to avoid disappointment. Condition of pre- owned items vary - but all items are complete and in working order unless otherwise stated. Please thoroughly check photographs before buying - please note the item in the photograph is the item you are buying.




TO ORDER
Please bear in mind that the second-hand apparatus, books and tricks in our stocks are generally limited to one of each particular item.
Once you have seen what you are looking for please email to check availability, and to reserve items and to receive a shipping quote.
We will the contact you with full details and also the shipping costs.
Payment can then be made to our PayPal account.
SHIPPING
All items are dispatched using a signed for/recorded service – this ensures parcels are delivered safely and with proof of delivery.
We ensure all items are packed securely prior to dispatch.
RETURNS
Returns/refunds will only be considered for faulty items.