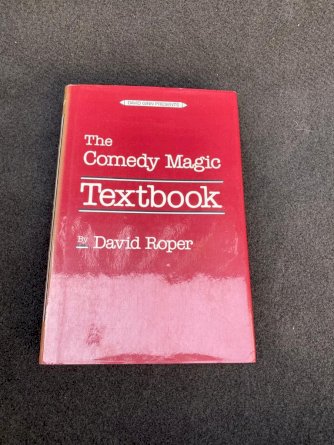 The Comedy Magic Textbook by David Roper

Description
Delivery Info
The Comedy Magic Textbook by David Roper
Pre- Owned hardback Magic Book
Good Condition - Light shelf wear & signs of use/age. Please see photos for condition

Over the space of 248 pages hardbound, author David Roper looks at comedy magic from every possible angle, backed by 20 years of research and experience, putting down his conclusions in theory as well as practical application. You'll learn not only how to mix comedy with magic, but you'll find dozens of tried, tested and polished routines in the book, well-illustrated with 80 Jim Kleefeld drawings and 30 photos.

The Comedy Magic Textbook is for magicians, clowns, comedians, ventriloquists, public speakers, story-tellers . . . stage or close-up entertainers . . . in fact, anyone who wants to entertain people with funny FAMILY-ORIENTED magic. This is a book that will INFORM as well as ENTERTAIN you . . . it's a volume that will make you THINK CREATIVELY . . . and it's a REFERENCE book you will consult again and again as you CREATE new routines for your own funny performances year after year!

The Comedy Magic Textbook contains 12 chapters:

(1) Why Do Comedy Magic? Eight good reasons that make sense.
(2) What IS Comedy Magic Four basic types, lots of examples.
(3) How to Do Comedy Magic Effectively: two ways possible, plus lots of gags an routines for examples.
(4) General Suggestions: Nine excellent methods including character development, writing routines, avoiding cheap laughs, and mixing magic with comedy.
(5) A Controversial Question: using other's routines an using routines from books and magazines. Honest, yet deep.

The second half of tile book is devoted to routines.

(6) The Polish-Irish-Aggie Award Winning Trick.
(7) Comedy Opening Routine: a funny chain escape & suitcase jag.
( Tumbleweed tidbits: good rice bowls.
(9) Comedy Car Mat, a close-up worker's dream.
(10) Hippity-Hop Rabbits in a routine you can play for kids or ADULTS.
(11) Patriotic Professor Cheer: happy ending.
(12) Less-Than-Perfect Magician: powerful pullet production, stage comedy MIKO and the craziest head chopper you've ever seen!

The Comedy Magic Textbook is the only book ever produced tackling the subject of FAMILY-ORIENTED COMEDY MAGIC.

As with all of our pre-owned and antique magic we have only got one of each item, please contact us to buy today to avoid disappointment. Condition of pre- owned items vary - but all items are complete and in working order unless otherwise stated. Please thoroughly check photographs before buying - please note the item in the photograph is the item you are buying.




TO ORDER
Please bear in mind that the second-hand apparatus, books and tricks in our stocks are generally limited to one of each particular item.
Once you have seen what you are looking for please email to check availability, and to reserve items and to receive a shipping quote.
We will the contact you with full details and also the shipping costs.
Payment can then be made to our PayPal account.
SHIPPING
All items are dispatched using a signed for/recorded service – this ensures parcels are delivered safely and with proof of delivery.
We ensure all items are packed securely prior to dispatch.
RETURNS
Returns/refunds will only be considered for faulty items.