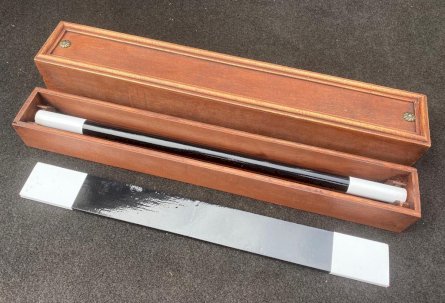 Pneumatic Wand - Practical Magic

Description
Delivery Info
Pneumatic Wand - Practical Magic
Pre- Owned
Good Condition slight signs of wear and use - Please see photos for condition
No Instructions included - but easy to operate
Pneumatic Wand
It's pneu! (The wooden version, that is.) It's also one of the funniest bits of business you'll see in many a long year. In the course of a trick, you need your wand, but, as this is a special trick you need a special wand: in fact, your very best wand. It's so special, you keep it in a box so that it can't get scratched. Removing the lid, you peer inside. What's this? A tatty, crumpled silk handkerchief! And you asked your wife/girlfriend/ husband/ partner to iron it for you! Looks like they have forgotten. You don't think...no, surely not! You don't think they've ironed the WAND instead! So saying, you remove from the box a wand which looks as if it has had an argument with a steamroller!

Now you're really in a mess (magician-in-trouble syndrome!). You can't perform magic with a flat wand, so you call up a volunteer. The wand is dropped back into the box, and the lid placed on. Is your assistant any good at swimming? No? Well, can she hold her breath? T hat's good! Now you get her to stick a finger in one end of the box, and you pump her arm up and down, trying to force air into the box. (You could equally well use a balloon pump here.)

It seems to work, because a moment later, when you remove the lid, the flat wand has vanished, and there is your best wand, completely SOLID, which you use for the trick!

You're going to have a lot of fun with this one!
As with all of our pre-owned and antique magic we have only got one of each item, please contact us to buy today to avoid disappointment. Condition of pre- owned items vary - but all items are complete and in working order unless otherwise stated. Please thoroughly check photographs before buying - please note the item in the photograph is the item you are buying.



TO ORDER
Please bear in mind that the second-hand apparatus, books and tricks in our stocks are generally limited to one of each particular item.
Once you have seen what you are looking for please email to check availability, and to reserve items and to receive a shipping quote.
We will the contact you with full details and also the shipping costs.
Payment can then be made to our PayPal account.
SHIPPING
All items are dispatched using a signed for/recorded service – this ensures parcels are delivered safely and with proof of delivery.
We ensure all items are packed securely prior to dispatch.
RETURNS
Returns/refunds will only be considered for faulty items.