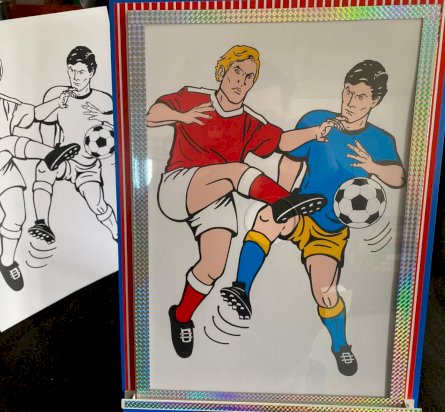 New Style Magic Painting Jumbo Size - Gary Mark

Description
Delivery Info
New Style Magic Painting Jumbo Size - Gary Mark
Pre- Owned
Good Condition - Some scratched and marks to front of Perspex but not noticeable when handling. - Please see photos for condition
Instructions Included.
Prop comes with x1 blank and x20 coloured inserts
You may pick one of the following designs: footballers, clowns or scarecrow
Limited amount of refill packs of different designs available on Castle Magic Website for £10 for x40 coloured and x1 blank.

New Style Magic Painting JUMBO SIZE - Gary Mark

As seen on TV on The Sorcerer's Apprentice.

Every once in a while, there comes along a new effect, or a variation of one, which really creates a stir. Our 'New Style Magic Painting' is one such prop. It was launched at the IBM Convention in Southport eight years ago, and immediately sold out. It has been selling out ever since! Reviewed by Donald Bevan in 'Abra' 2701, it was described as 'stunningly magical' and 'one of the bargains of the year'. Praise indeed, but when you see the item and handle it, you will realise that those words are no exaggeration.
On a large easel (approximately 18" x 13") sits a clear frame, inside which is a black and white picture of a clown. The frame is picked up and shown front and back, and then replaced back outwards on the easel ("Because all magic happens in secret"). How the routine is developed is very much up to you, but there are plenty of other props in these pages which can be used in conjunction with the 'Magic Painting'. Suffice it to say, the picture is 'coloured' by the children, and, when you slide it out of the frame, there is the clown, gorgeously coloured! The children can see through the frame, which is left on the easel.


Now for the clever bit. You sign the painting, or affix your label, and give it to the birthday child to keep as a momento of their party. Think of the publicity possibilities!

The easel is made from coloured Foamex, which, unlike painted wood, doesn't warp or chip, and the frame is crystal clear acetate, edged in black vinyl.

As with all of our pre-owned and antique magic we have only got one of each item, please contact us to buy today to avoid disappointment. Condition of pre- owned items vary - but all items are complete and in working order unless otherwise stated. Please thoroughly check photographs before buying - please note the item in the photograph is the item you are buying.





TO ORDER
Please bear in mind that the second-hand apparatus, books and tricks in our stocks are generally limited to one of each particular item.
Once you have seen what you are looking for please email to check availability, and to reserve items and to receive a shipping quote.
We will the contact you with full details and also the shipping costs.
Payment can then be made to our PayPal account.
SHIPPING
All items are dispatched using a signed for/recorded service – this ensures parcels are delivered safely and with proof of delivery.
We ensure all items are packed securely prior to dispatch.
RETURNS
Returns/refunds will only be considered for faulty items.