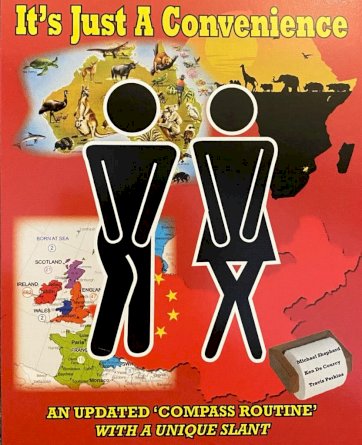 It's Just a Convenience

Description
Delivery Info
It's Just A Convenience - An updated compass routine with a unique slant.
The magician introduces a plastic sign showing the symbol for a man, the sort that is fixed on a toilet door to show whether it's for ladies or gentleman. He turns it over and shows the symbol for ladies (on the back). Both symbols are the right way up.
Then, in line with the suggested patter, the male symbol is turned so it is horizontal. When the plaque is turned over, the female symbol is reversed; they are now head to head.
The men's symbol is reversed so it is pointing the other way. When the sign is turned, the female symbol points in the opposite direction.
Finally, the man is turned upside down so it points to the ground. The sign is turned again and now the lady is also pointing to the ground. Once again they match.
TO ORDER
Please bear in mind that the second-hand apparatus, books and tricks in our stocks are generally limited to one of each particular item.
Once you have seen what you are looking for please email to check availability, and to reserve items and to receive a shipping quote.
We will the contact you with full details and also the shipping costs.
Payment can then be made to our PayPal account.
SHIPPING
All items are dispatched using a signed for/recorded service – this ensures parcels are delivered safely and with proof of delivery.
We ensure all items are packed securely prior to dispatch.
RETURNS
Returns/refunds will only be considered for faulty items.