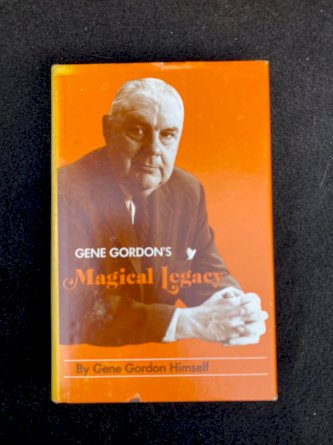 Gene Gordon's Magical Legacy

Description
Delivery Info
Gene Gordon's Magical Legacy
Pre- Owned hardback Magic Book
Good Condition - signs of ages, use and shelf wear - Please see photos for condition
Description
Lynne and David spent six months "burning the midnight oil" in early 1980 to produce GENE GORDON'S book of a lifetime — MAGICAL LEGACY.  Hard bound, 362 pages of autobiography and tricks from close up to stage, adventures of traveling the USA during the 1930s and 40s doing 700 shows yearly and much much more.  Famous magicians GENE met figure into the mix of magical stories, like Karrell Fox, Ted Anneman, Neil Foster, Lady Frances, Bob Weill, MAWNY and the early days of the IBM, which Gene founded with another magician in 1922.

As with all of our pre-owned and antique magic we have only got one of each item, please contact us to buy today to avoid disappointment. Condition of pre- owned items vary - but all items are complete and in working order unless otherwise stated. Please thoroughly check photographs before buying - please note the item in the photograph is the item you are buying.



TO ORDER
Please bear in mind that the second-hand apparatus, books and tricks in our stocks are generally limited to one of each particular item.
Once you have seen what you are looking for please email to check availability, and to reserve items and to receive a shipping quote.
We will the contact you with full details and also the shipping costs.
Payment can then be made to our PayPal account.
SHIPPING
All items are dispatched using a signed for/recorded service – this ensures parcels are delivered safely and with proof of delivery.
We ensure all items are packed securely prior to dispatch.
RETURNS
Returns/refunds will only be considered for faulty items.