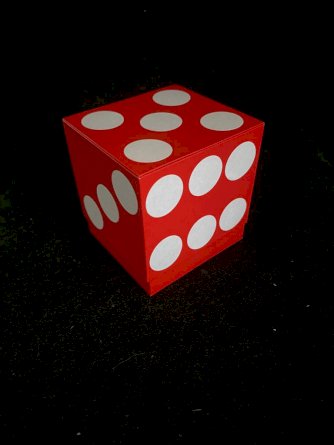 Driebeck Die (miniature)

Description
Delivery Info
Driebeck Die
Pre- Owned
Condition is excellent - Please see photos for condition
Instructions included
The Driebeck Die was originally marketed and put out by Ken Brookes Magic Place. It was invented by Bob Driebeck and was based on the Lubor Die. In 1990 Rob Bromley was given full permission by Bob Driebeck to manufacture the dice and has gone on to develop this close up version of the entertaining and baffling piece.

The Miniature Version of this classic effect that takes the "Gazinta" box beyond!

A miniautre red die is shown and spun between the two hands. The die is taken apart and from it you remove what you state is "A Carrying Case" for the die. The two sections of the red die are placed on the table in full view so that the audience has a clear view both inside and out. The case is now opened up and is also shown inside and out. The empty case is placed on the table alongside the red die.

The two parts of the red die are reassembled, freely shown and then—believe it or not—the die is placed inside the carrying case which, only moments before was taken from it!

But the effect does not end there! The patter story then switches to China. You open the case and from it—you produce a box of tea from China…the red die has completely vanished! Bob Driebeck is the Inventor and he always got laughs with this.

The apparatus is hand made and bright in color for top visibility. Can be performed entirely surrounded. Die is approx. 3-inch square and, as all parts fit inside it, you have only one unit to carry.

Top quality magic. Featured by Paul Daniels, Roy Johnson, Trevor Lewis, Ben Martin & Sid Lorraine. Dimensions approximate: 3″ x 3″ and 3 1/4″ tall.

As with all of our pre-owned and antique magic we have only got one of each item, please contact us to buy today to avoid disappointment. Condition of pre- owned items vary - but all items are complete and in working order unless otherwise stated. Please thoroughly check photographs before buying - please note the item in the photograph is the item you are buying.




TO ORDER
Please bear in mind that the second-hand apparatus, books and tricks in our stocks are generally limited to one of each particular item.
Once you have seen what you are looking for please email to check availability, and to reserve items and to receive a shipping quote.
We will the contact you with full details and also the shipping costs.
Payment can then be made to our PayPal account.
SHIPPING
All items are dispatched using a signed for/recorded service – this ensures parcels are delivered safely and with proof of delivery.
We ensure all items are packed securely prior to dispatch.
RETURNS
Returns/refunds will only be considered for faulty items.