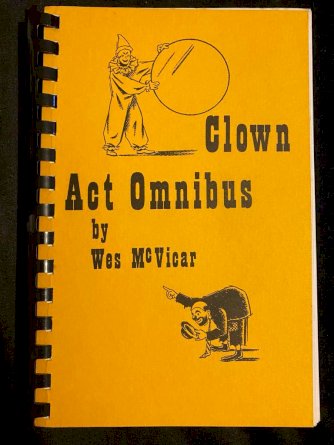 Clown Act Omnibus by Wes McVicar

Description
Delivery Info
Clown Act Omnibus by Wes McVicar
Pre- Owned paperback Magic Book
Good Condition - Slight Shelf wear - Please see photos for condition
A complete guide to the art of clowning by Wes McVicar. Everything you always wanted to know about clowning (and didn't know whom to ask) is here in this inexpensive, paperback book. We have yet to see any other clown-act book as complete as this. Includes over 200 workable clown acts for beginners, intermediates and advanced participants. All acts are classified by type, equipment needed, gymnastic skills, and practice required. The book is divided into nine sections and they cover: Clowning as an Art, Pantomime, Makeup, Costumes, Suggestions for Programming, Production Ideas, Properties and Stunts.




TO ORDER
Please bear in mind that the second-hand apparatus, books and tricks in our stocks are generally limited to one of each particular item.
Once you have seen what you are looking for please email to check availability, and to reserve items and to receive a shipping quote.
We will the contact you with full details and also the shipping costs.
Payment can then be made to our PayPal account.
SHIPPING
All items are dispatched using a signed for/recorded service – this ensures parcels are delivered safely and with proof of delivery.
We ensure all items are packed securely prior to dispatch.
RETURNS
Returns/refunds will only be considered for faulty items.