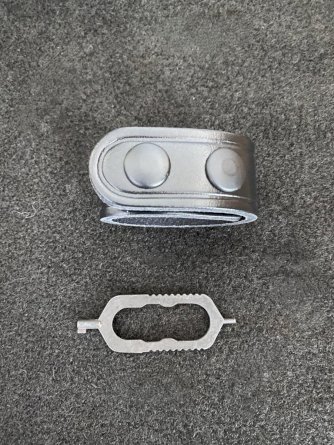 Belt Keeper with Hidden Handcuff Key

Description
Delivery Info
Belt Keeper with Hidden Handcuff Key
Attach this to your belt, insuring you always have a handcuff key hidden on your person ready to make your escape.
Warning
Workshop Thirteen/ Castle Magic do not recommend that this product or any other cuffs, escapes or restraints be used under water as this may damage the mechanism, causing the
product to jam. Workshop Thirteen/Castle Magic assumes no responsibility for use or improper use of this or any of their products. Please remember that many escape artists
and magicians are seriously injured or die whilst performing escapes. Be sensible, be safe and enjoy!
This product may be covered with a protective oil. After opening your equipment please
wipe off any oil using a soft dry cloth. Do not allow oil to come into contact with clothing or soft furnishings.
TO ORDER
Please bear in mind that the second-hand apparatus, books and tricks in our stocks are generally limited to one of each particular item.
Once you have seen what you are looking for please email to check availability, and to reserve items and to receive a shipping quote.
We will the contact you with full details and also the shipping costs.
Payment can then be made to our PayPal account.
SHIPPING
All items are dispatched using a signed for/recorded service – this ensures parcels are delivered safely and with proof of delivery.
We ensure all items are packed securely prior to dispatch.
RETURNS
Returns/refunds will only be considered for faulty items.