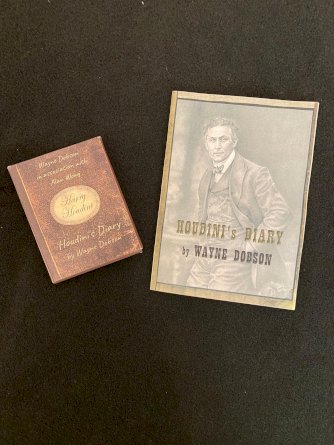 Houdini's Diary by Wayne Dobson

Description
Delivery Info
Houdini's Diary by Wayne Dobson
Pre- Owned
As new- Please see photos for condition
Instructions are downloadable via link
This is Wayne's take on the classic Diary Card effect. As ever, he has routined it to be SUPER-SIMPLE to perform: NO STACKS NO ARITHMETIC NO MEMORIZING NO CRIBS NO SLEIGHT OF HAND ONLY ONE DIARY INSTANT RESET Not only is it a strong effect, but the Houdini theme is intriguing and memorable. You offer to show them the trick Houdini claimed as his favourite card trick! It involves a vintage diary - and you managed to get hold of one of Houdini's original private diaries. As a man fascinated by the occult, Houdini liked to write the name of a playing card against every day in the diary, in the belief that particular cards had resonance with certain days of the year. The spectator calls out any date in the year that means something special to them: a genuine, free choice. When you spread the deck face down, every card is blue-backed except for one card - which is red-backed AND bears Houdini's signature on the back!
The spectator only now turns to the date and confirms that the cards for that week are all different. For the first time, they tell you the name of the card at that particular date.

The amazing coincidence is that their chosen date was the very one that Houdini's pet dog died; the single red card is now shown to be the very same card.

You'll love the antique diary and photograph Bob Gill designed and Alan Wong produced especially for this effect.

But most of all, you'll love Wayne's very funny comedy presentation that is the making of this routine: one you'll enjoy performing - every time you do it.


As with all of our pre-owned and antique magic we have only got one of each item, please contact us to buy today to avoid disappointment. Condition of pre- owned items vary - but all items are complete and in working order unless otherwise stated. Please thoroughly check photographs before buying - please note the item in the photograph is the item you are buying.



TO ORDER
Please bear in mind that the second-hand apparatus, books and tricks in our stocks are generally limited to one of each particular item.
Once you have seen what you are looking for please email to check availability, and to reserve items and to receive a shipping quote.
We will the contact you with full details and also the shipping costs.
Payment can then be made to our PayPal account.
SHIPPING
All items are dispatched using a signed for/recorded service – this ensures parcels are delivered safely and with proof of delivery.
We ensure all items are packed securely prior to dispatch.
RETURNS
Returns/refunds will only be considered for faulty items.